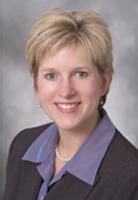 Jan Maltby began her career with The Prudential Insurance Company of America in April of 1985. She has held a variety of positions including: financial planner, trainer, business and compliance manager, and Sales Manager for Prudential Financial Planning Services in central Iowa. In 2013, her office was honored as being the top Financial Planning Office of the year for the Prudential Midwestern Agency. Maltby, along with her business partners, James Odson, and Steve Hustedt, were also awarded as the top three investment advisors of 2013 for the Prudential Midwestern Agency. Odson and Hustedt are financial planners with Prudential Financial Planning Services, a division of Pruco Securities, LLC.
In 2003, Maltby, Odson, Hustedt and Richard Donovan opened a private office in Ankeny and they do business as Iowa Financial Partners, Insurance & Financial Services, LLC. They enjoy working with the individual and business clients.
Jan has complete many designations, including the CLTC-Certified in Long-Term Care. This designation is granted by the Corporation for Long Term Care Certification and financially and editorially independent of the long-term care insurance industry. Graduates have completed a multidisciplinary course that focused on the profession of long-term care.
Insurance and Financial Services to Reach Your Goals
Our Professional Associates Are Here to Help You